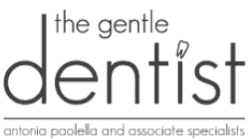 The Gentle Dentist
Medical practice
Book an appointment online
Complete the following information
Place of consultation

The Gentle Dentist

61 Shelton Street, London WC2H 9HE

2

Choose a speciality
Practice info
ABOUT
Antonia Paolella's Covent Garden practice provides dental care for nervous and anxious patients in a calm, friendly and professional environment.
A multilingual staff is specially trained to relax you and to give you confidence and support.
Early and late appointments available 7 days a week.

The team at The Gentle Dentist in Covent Garden consists of Antonia, her specialist colleagues and highly trained, sympathetic assistants. The atmosphere is relaxed and the surroundings tranquil. It's a veritable oasis in the heart of the Covent Garden and, when it comes to dental care, the emphasis is on the standards of excellence, as well as dedication to the needs of the patient as an individual.
We look forward to seeing you at your initial appointment. This will comprise of a full dental examination, necessary radiographs (excluding OPG), a detailed treatment plan and explanatory literature relating to your personal requirements for a fixed fee.
Map and access
Contacts
Payment methods
Cash
Credit card
Debit card

Team